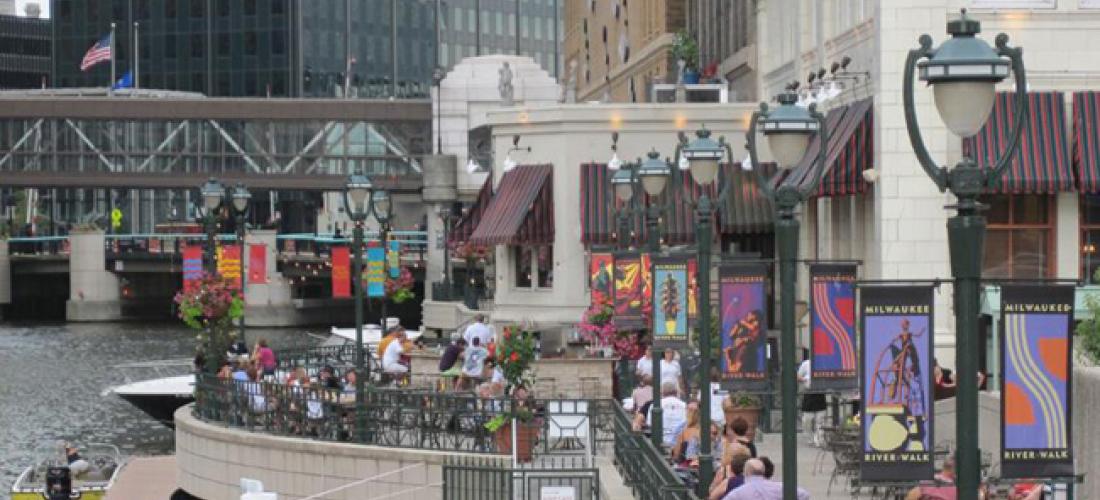 © Visit Milwaukee
Demographics
Who Are We?
For starters, we're very friendly. In fact, we were named one of America's friendliest cities by Travel & Leisure magazine. We're down-to-earth, hard-working and like to have fun. We thrive, because we are a diverse community that celebrates our past, present and future. Most Milwaukeeans are American by birth, they are proud of their cultural roots.
Once known as a "melting pot" that drew its strength from the varied immigrant groups who planted roots here hoping to find opportunity, peace and prosperity, Milwaukee can now be seen as a nexus that connects individuals from various backgrounds to create an urban environment made stronger through vibrant diversity. The metropolitan region is 66% White, 17% Black, 12% Hispanic/Latino and 4% Asian. Thirty-five percent of the total population identify as having German ancestry, 11% Polish, 10% Irish, 4% English and 4% Italian. Among the Hispanic population, 68% identify as having Mexican ancestry and 23% are of Puerto Rican descent. Among the Asian population, 28% are Hmong, 27% are Indian and 13% are Chinese.   
Milwaukee embraces the distinct character of its various heritages by hosting a cavalcade of ethnic festivals throughout the year, bringing together the larger community to celebrate the unique contributions and traditions of each group. Larger festivals rotate through the lakefront Henry W. Maier Festival Park, including Polish Fest, German Fest, Mexican Fiesta and Irish Fest.
We are also a tolerant community. Milwaukee is home to a large, vibrant and active LGBTQ+ community that offers engagement, support resources, film festivals and social events, including PrideFest Milwaukee, an annual celebration held on Milwaukee's lakefront.
Ideal for All Ages & Stages
The Milwaukee Region is an ideal place to start a career, raise a family or enjoy the freedom retirement brings
For the Young
An energetic, but walkable downtown teeming with new apartments, condominiums and restaurants has made Milwaukee a choice destination for young professionals. The city offers affordable housing, professional sports teams, rich cultural offerings, a vibrant music scene (including Summerfest, the world's largest music festival), and plenty of opportunities to enjoy the outdoors (including miles of beaches and a lakefront state park within walking distance of the downtown). The city's low unemployment rate, its rapidly developing technology clusters, and its premier colleges and universities make it a perfect place to start or grow a career.  
For Families
Excellent schools, a wide variety of safe communities and plenty of kid-friendly activities make Milwaukee a wonderful place to raise a family. In addition to having one of the nation's largest park systems, the Milwaukee Region has several attractions curated with kids (and kids at heart) in mind: Betty Brinn Children's Museum, Discovery World Science + Technology Center, Milwaukee Public Museum/Daniel M. Soref National Geographic Dome Theater & Planetarium, the Mitchell Park Domes, Milwaukee Art Museum, Boerner Botanical Gardens, Old World Wisconsin and the Milwaukee County Zoo. Wisconsin schools consistently rank among the better performing institutions in the nation and the area offers a variety of excellent religious and private schools as well.   
For Retirees
Given its cold winters, Milwaukee scores surprisingly high as a preferred destination for retirees. One reason is the affordable cost of living. Home prices won't consume your life savings, dining out is not expensive, and you can even take college classes for free within the University of Wisconsin system (the University of Wisconsin-Milwaukee campus, the second-largest in the state, is located just north of downtown Milwaukee). Then, of course, there are all of the outdoor activities – the golf, the tennis courts, the hiking trails, miles of beaches, the symphony, and the opera. The list is endless. And who says you can't enjoy the winter? You may not be up for the polar-bear plunge, but how about cross-country skiing or snowshoeing?
Our History (Short Version)
Native Americans were the first to realize the beauty of Milwaukee's location at the mouths of the Kinnickinnic, Menomonee and Milwaukee rivers. They called it "Milwaukie," which means "where the waters meet." Its natural harbor and lightly wooded bluffs made it a perfect location. By 1817, Milwaukee was already a cosmopolitan village with an estimated 300 people representing a variety of tribes, including the Sac, Fox, Chippewa, Ottawa, Winnebago, Menomonee and Potawatomi. They speared fish in the three rivers and grew wild rice in the grassy swamps where Milwaukee's downtown now stands.
One of the first known Europeans to visit the area was Jesuit missionary Father Jacques Marquette, who camped here in 1674. He was soon followed by fur trappers drawn to the area by its wealth of natural resources. Indians and fur trappers kept a cautious distance from each other, but from time to time Native Americans helped fight white men's wars, most notably the Revolutionary War and the War of 1812.
Germans were among the city's first immigrants, and they soon dominated the city. By 1850, one-third of the city's population was German and by the early 1900s, the city was referred to as the "German Athens of America." The city's South Side Polish population was the second largest ethnic group. 
Milwaukee's first African-American church dates back to 1869, but the city's African-American community did not start growing rapidly until after World War I. The first Hispanics arrived in the early 1920s, when local tanneries recruited men from Mexican villages. Milwaukee's economy grew rapidly between 1940 and 1980, and its metropolitan population increased 59 percent, to 1.4 million people.
At the beginning of the 1980s, Milwaukee was one of the leading manufacturing cities in the country. Allis-Chalmers, Harnischfeger, Briggs & Stratton, Harley-Davidson, A.O. Smith, Allen-Bradley and Bucyrus-Erie had made the city famous. The local economy's dependence on manufacturing jobs left it vulnerable to the manufacturing recession of the late 1970s and early 1980s, when tens of thousands of people lost their jobs as factories closed or moved their operations out of the state.
Since then, Milwaukee has rebuilt its economy, this time with a diversified base and an increased emphasis on exports. It has also become a leader in the development of e-commerce and green technologies. This shift to service-based industries has offered some protection against severe swings in manufacturing cycles. The area's annual unemployment rate has typically outperformed the national average for 20 years. For more information about our next-generation economy, please see Career Opportunities, which starts on page 18, or contact the Metropolitan Milwaukee Association of Commerce (www.mmac.org) and request a copy of the latest Navigate Business MKE. If you're looking for more detailed information about the region's colorful history, visit themakingofmilwaukee.com, which features video history segments assembled by noted historian John Gurda or explore the Encyclopedia of Milwaukee digital humanities project at emke.uwm.edu.