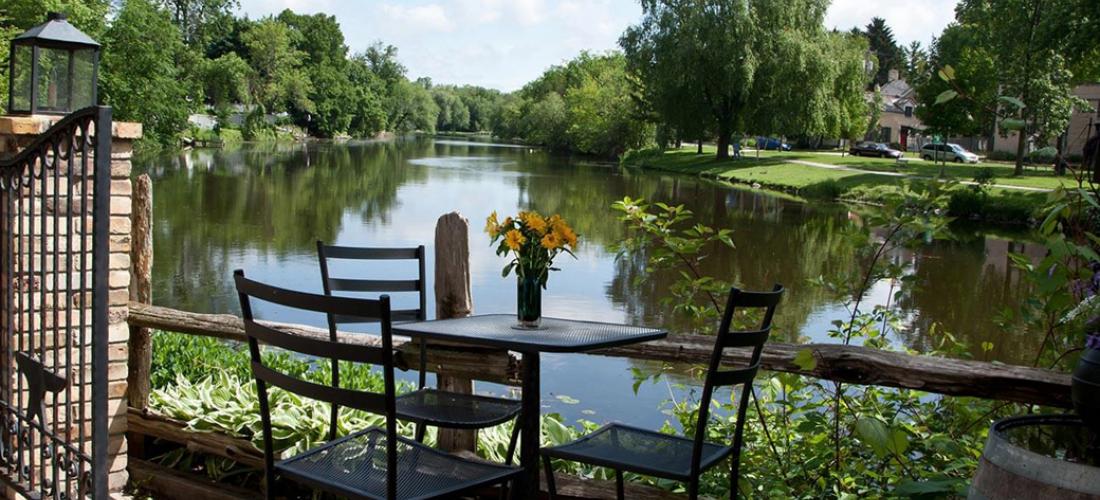 Ozaukee County
Historic Villages & Suburban Energy
Located just to the north of Milwaukee County, Ozaukee is the second-smallest county in the state and the least-populated county in the metropolitan area; however, it is a virtual treasure chest of historical sites and stunning lakefront landscapes. Rated in 2021 by Niche as the best Wisconsin county in which to live, it is also one of the more rapidly developing counties in the area. Mequon and Thiensville have become prime locations for residential developments because of their proximity to downtown Milwaukee. Ozaukee County is best known, however, for its many quaint towns, country inns, and octagonal barns.
Stretching vertically along the Lake Michigan shoreline north of Milwaukee, Ozaukee County has kept its rich commercial heritage alive. Cedarburg's Cedar Creek Settlement, a collection of 18 shops, boutiques and galleries housed in a restored woolen mill, is a major shopping attraction, drawing visitors from throughout the region. Port Washington, the county's first settlement, was once a major commercial fishing port and still boasts one of the area's finest marinas. It is also a manufacturing center, with several business parks located on the city's west side.
Ozaukee County is rich in natural beauty. Harrington Beach State Park, located just north of Port Washington, is one of the most beautiful state parks in Wisconsin. The Ozaukee Interurban Trail is a converted 30-mile railroad right-of-way that is now used by walkers, joggers and cyclists to enjoy the outdoors. Whether you choose to live in Port Washington, historic Cedarburg or suburban Mequon, you'll enjoy the pace of life in Ozaukee County.
Mequon/Thiensville 


Mequon and Thiensville are the urban communities of Ozaukee County, accounting for more than one-third of the county's population. The Milwaukee River meanders lazily through the two communities, which are located at the southern edge of the county. Mequon's beautiful scenery and rural location have made it one of the most affluent and rapidly growing suburbs in the area. It boasts majestic lakeshore bluffs, stately homes, numerous golf courses and easy access to the interstate. 

Many of Wisconsin's professional athletes have homes in this area, as does Concordia University, a four-year liberal arts school. Thiensville is a smaller community that dates back to the turn of the 20th century. It was slowly surrounded by Mequon as that city began to blossom in the 1950s.
Cedarburg/Grafton
Cedarburg is a picturesque town of specialty shops, antique stores and intimate restaurants. Its thriving downtown is listed on the National Register of Historic Places and features buildings dating back to the 1800s. The city's residential base is a mixture of older, stately homes and modern subdivisions. Since 1960, the community's population has more than doubled.
Grafton, its neighbor to the east, is also an historic village. It was established in the early 1840s to take advantage of the Milwaukee River and has been a center of commerce ever since. Because of its location near I-43, Grafton continues to experience significant industrial and commercial development. Ten miles north of Grafton and Cedarburg is the Ozaukee County Pioneer Village, a living museum of 24 buildings and structures that were constructed between 1840 and 1907, including furnished homes, barns and outbuildings.
Northern Ozaukee County: Belgium • Fredonia • Port Washington • Saukville


Lake Michigan dominates the landscape in northern Ozaukee County, which includes Belgium, Fredonia, Port Washington and Saukville. Harrington Beach State Park is a nature enthusiast's treasure chest. The 636-acre park contains more than a mile of beach along Lake Michigan. The park also offers numerous campsites, picnic areas, hiking paths and cross-country skiing trails for outdoor enthusiasts of all types.
Port Washington, the county seat, is the largest community in northern Ozaukee County. Once one of Lake Michigan's major commercial fishing ports, the city still resembles a small fishing village. Besides being home to many charter boat captains, Port Washington offers residents a publicly owned marina and provides them with the only Lake Michigan-based water supply in the county. Because of the community's age - it was the county's first settlement - the city offers a wide variety of housing, from homes built in the mid-1800s to modern homes in spacious subdivisions.
Saukville is a small community located just northwest of Port Washington along Wisconsin's Ethnic Settlement Trail. Its quaint downtown, business park and proximity to woodlands and water have made it an attractive location for those who love the outdoors.
Riveredge Nature Center, located in the northwestern corner of the county, is a peaceful 351-acre sanctuary that includes cross-country skiing, hiking trails and outdoor learning laboratory. Also located in the northernmost regions of Ozaukee County are the small rural communities of Fredonia and Belgium. Fredonia claims to be the birthplace of Flag Day and is home to the National Flag Day Foundation. Belgium is located off I-43 just west of Harrington Beach State Park, where the village's founders, immigrants from Luxembourg, worked in the quarries.