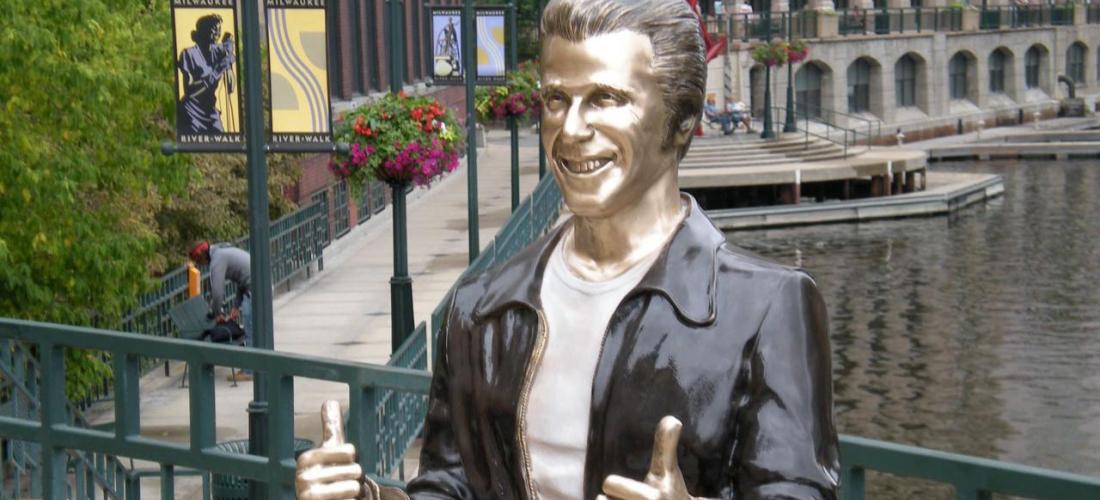 © Visit Milwaukee
Uniquely Milwaukee
There's lots of things in southeastern Wisconsin that are truly local — from interesting eating spots to distinctive architecture to special events. Here are some worth checking out.
The Domes
The Mitchell Park Horticultural Conservatory consists of three conoidal domes - the only in the world. Built in the early 1960s, each dome features a different environment - arid, tropical and a "show dome" for seasonal displays.
Kopp's
Frozen custard is the Wisconsin state dessert, and Kopp's is the crème de la crème of custard stands. With restaurants in Glendale, Greenfield and Brookfield, it's popular year-round, even in winter!
Forecasting Flame
Sitting atop the former Wisconsin Gas Company building downtown, this iconic flame predicts the weather: when red, warmth ahead; when gold, watch for cold; when blue, no change in view; and when it flickers, expect snow or rain.
The Hoan Bridge
The iconic, tiered arch bridge connects Milwaukee's downtown to Bay View. Built in the 1970s, it won the 1975 Long Span Bridge Award from the American Institute of Steel Construction. Lined with 2,600 LED lights, it provides a rainbow of colors at night.
City Hall
The most symbolic building in the downtown landscape, Milwaukee's City Hall is one of only a handful of buildings in the world designed in the Flemish Renaissance style. Huge granite arches support a 350-foot bell tower, the ornately sculpted exterior and the building's eight-story indoor atrium. 200 E. Wells Street.
Milwaukee Art Museum
Designed by Spanish architect Santiago Calatrava and dedicated in 2001, the iconic lakefront addition features a brise soleil, which, when opened, soars like a bird over the addition below with the wingspan equal to a Boeing 747.  700 N. Art Museum Drive
Milwaukee Public Market
This downtown food, shopping and social nexus offers distinctive artisan, ethnic, hand-crafted and local products, as well as freshly-made prepared foods featuring independent merchants. Enjoy outdoor seasonal stalls and an indoor Palm Garden. Enroll in its popular cooking classes! 400 N. Water Street.
Rockwell Clock Tower
Bigger than Big Ben! You can't miss the landmark Clock Tower at Rockwell International's Allen Bradley site. Its the Western Hemisphere's largest four-faced clock, with each face measuring over 40 feet, and 16- and 20-foot hour and minute hands respectively. Fun Fact: the illuminated clock also functions as a navigational aid for ships at night.
St. Josaphat Basilica
Polish immigrants built this beautiful South Side church with 500 railroad carloads of marble, limestone, granite columns, metal and woodwork from the demolished Chicago courthouse and post office. 2333 S. 6th Street
Annunciation Greek Orthodox Church
Frank Lloyd Wright's last major project, completed in 1961, is one of many examples of the famed architect's work throughout southeastern Wisconsin and the state. 9400 W. Congress Street, Wauwatosa
SAY WHAA? Learn the Lingo
Brew City (oops! "Milwaukee") has a rich history reflected in a dialect all its own. Don't be befuddled by the locals. Learn the language, and you'll fit right in. To fully immerse yourself in the dialect, and have some laughs over Wisconsin's cultural idiosyncracies, subscribe to homegrown comedian Charlie Berens on YouTube or follow his Manitowoc Minute posts on Facebook or at manitowocminute.com.
Quick Translator
Following are some common terms and how to convert them into Wisconsin speak:
You Say:                     We Say:
water fountain           bubbler
pop                             soda
near                            over by
traffic light                  stop-and-go light
ATM                            TYME machine
And a few other essential words to help you fit in like a native-born Wisconsinite:
Brat
In any other state, a brat is a sassy, upstart kid. In Wisconsin, it's a food of almost religious stature. Short for bratwurst, this spicy German sausage can be found at almost any picnic or public event. Backyard chefs like to boil the brats in beer and onions prior to browning them on the grill to create a true Wisconsin delicacy.
Cheesehead
Many consider this a derogatory name for the state's residents, but some Wisconsinites are actually proud to wear foam-rubber cheese slices on their heads. It is the ultimate piece of fan gear for any Green Bay Packers fan.
Eh?
This is probably the most frequently used phrase in Wisconsin and is typically tacked onto the end of a sentence as a sort of "verbal period" to let listeners know when a speaker is finished talking. "Eh" can be used in any kind of sentence, regardless of whether it is a statement, question or a cry for help. If you want to sound like a native, just tag an "eh" on the end of your sentences. People will think your ancestors journeyed here with Father Marquette. Pretty simple, eh?
It Happened Here First . . .
Trading Stamps
In the 1890s, Schuster's Department Store in Milwaukee started issuing blue stamps to customers, who saved them and pasted them in booklets, which later could be redeemed for cash. Borrowed from a British company, the idea went national later in the decade when Sperry & Hutchinson Co. began issuing its own stamps in a different shade - S&H Green Stamps.
The Workable Typewriter
During the 1850s and '60s many inventors tried to produce a workable typewriter, but none succeeded until 1867, when Milwaukee's Christopher Latham Sholes and inventors Carlos Glidden and Samuel W. Soul patented a writing machine. The machine held a sheet of paper between a rubber platen and smaller rubber cylinder, with a carriage that moved from left to right as the keys, each with a separate mark, number or letter, were struck. Their invention didn't take off until 1873, when the trio contracted with contracted with E. Remington & Sons of Ilion, New York, which until then just made rifles and sewing machines, to produce it.
The Automotive Assembly Line
Milwaukee's A.O. Smith Corp., which went from making bicycle frames to automotive frames in 1903, mechanized Henry Ford's assembly-line process in 1913, becoming the first company to mass-produce auto frames.
Eat Like a Local
Check out the following foods, because they're iconic MKE! 
Fish Fries
They're not just for Lent; they are a Friday night ritual here year-round. Whether beer-battered or baked, offered with French fries or potato pancakes, and served in bars or fancy restaurants, fish fries require that you eat early or get a reservation. And be careful who you tell about a secret spot; otherwise you will be waiting in line there as well.
Frozen Custard
This is a unique treat that is found only in Milwaukee and a handful of cities sprinkled around the country. Made with cream and eggs, frozen custard has become one of the area's primary food staples. It is so popular that it is not uncommon to see people standing outside in sub-freezing temperatures relishing a scoop of cherry amaretto cheesecake or chocolate truffle. There are more than 30 frozen custard stands in the area.
Cheese Curds
Enjoy them cold or fried, but be sure to ask for dipping sauce!
Kringles
These pastries celebrate Racine's Danish heritage with a flaky flourish
Paczki
Polish filled donuts usually enjoyed to excess on Fat Tuesday
Cream Puffs
A Wisconsin State Fair delight!
Brandy Old-Fashioneds
The official drink of Wisconsin! Traditionally made with Korbel Brandy, but be sure to try some of our excellent local brandies as well
Milwaukee-Style Bloody Marys
You get a beer chaser with these concoctions  laced with horseradish, Tabasco and celery salt, plus a plethora of garnishes
FAMOUS RESIDENTS
George Peck (1840-1916)
The creator of the first Dennis the Menace, who went on to become a Milwaukee mayor and governor of the state - in less than a year. Peck ran a humor weekly called Peck's Sun, which he moved here in 1878. The weekly's main attraction was a kid named Hennery who did terrible things to everybody, only to get his comeuppance in the end. The character made Peck a national celebrity - and a viable political candidate.
"Bud" Selig (1934 - )
Nationally known as the 9th Commissioner of Baseball, Allan "Bud" Selig is known locally as the man who kept baseball here in 1970. During his tenure as commissioner, his office was located in Milwaukee even though the rest of the league's administrative operations were in New York.
Dan Jansen (1965 - )
A West Allis native, Dan Jansen is a retired American speed skater, best known for winning a gold medal in world record time in his final race (1000 meters) in the 1994 Winter Olympics after falling in the 1988 Olympics in both the 500-meter and 1000-meter races.
Tom Snyder (1936 - 2007)
A familiar face on late night television, Tom Snyder was born in Milwaukee and got his broadcast start in a radio newsroom after graduating from Marquette University. He became a national figure in 1973 when he was named anchor of Tomorrow, a late-night television talk show that was replaced by Late Night with David Letterman.
Spencer Tracy (1900-1967)
Born in Milwaukee, Tracy is the only actor to win three Oscars for Best Actor. Starting in gangster roles, Tracy quickly graduated to a string of movies in which he depicted Hollywood's archetypal American of the 1930s and 1940s: tough, tenacious, honest.
Les Paul (1915-2009)
One of the most important people in the evolution of the electric guitar, Les Paul was born in Waukesha and became interested in music at age 8. He had some success as a performer, but his most famous accomplishments were helping to develop the solid-body electric guitar and pioneering the use of multi-track recording. After nearly dying in a car crash in the late 1940s, Paul reportedly told surgeons to set his shattered arm in such a fashion that he could continue to play guitar.
Carl Sandburg (1878-1967)
The Pulitzer Prize-winning poet and biographer, best known for his poems about Chicago and writings about Abraham Lincoln, spent several important years here, writing for newspapers and, briefly, serving as secretary for Emil Seidel, Milwaukee's first Socialist mayor.
Golda Meir (1898-1978)
Born in Russia, Gold Meir and her family moved here in 1905. She became a Zionist while still in her teens. After a few years as a schoolteacher in Milwaukee, she and her husband emigrated to Palestine to help lay the groundwork for the formation of Israel.
Douglas MacArthur (1880-1964)
The most controversial American general of the 20th century spent a brief time in Milwaukee, but he always listed the city as his hometown. After being decorated in World War I, MacArthur served as superintendent of West Point and as Army Chief of Staff. He retired in 1935, but was called back into active duty to lead the U.S. Army in the Pacific during World War II. After overseeing the occupation of Japan, MacArthur made an unsuccessful bid for the presidential nomination and, after calling for a wider war in Korea, was relieved of his command by President Truman in 1951.
Liberace (1919-1987)
A sensation in the mid-1950s and a self-caricature by the 1970s, Liberace was better known for his glitzy costumes and elaborate staging than for his piano work. His excessively stylized outfits and piano - always featuring a gaudy candelabrum, he set the standard for showmanship.
Arthur Fonzarelli (fictitious)
Also known as the Fonz, iconic Happy Days TV show character Fonzie was played by Henry Winkler. The Bronze Fonz is a public artwork by American artist Gerald P. Sawyer located on the Milwaukee Riverwalk just south of Wells Street in downtown Milwaukee. Fonzie stands in his typical costume, which consists of a leather jacket and jeans. He is giving his signature two-thumbs up.
The Zucker Brothers
Milwaukee natives Jerry (1950- ) and David Zucker (1947- ) are best known for their comedic genius in the popular spoof films Airplane!; Naked Gun; From the Files of Police Squad; Naked Gun 2-1/2; The Smell of Fear; and Naked Gun 33-1/3: The Final Insult.  Jerry also produced My Best Friend's Wedding, while David produced Santa Claus Conquers the Martians.