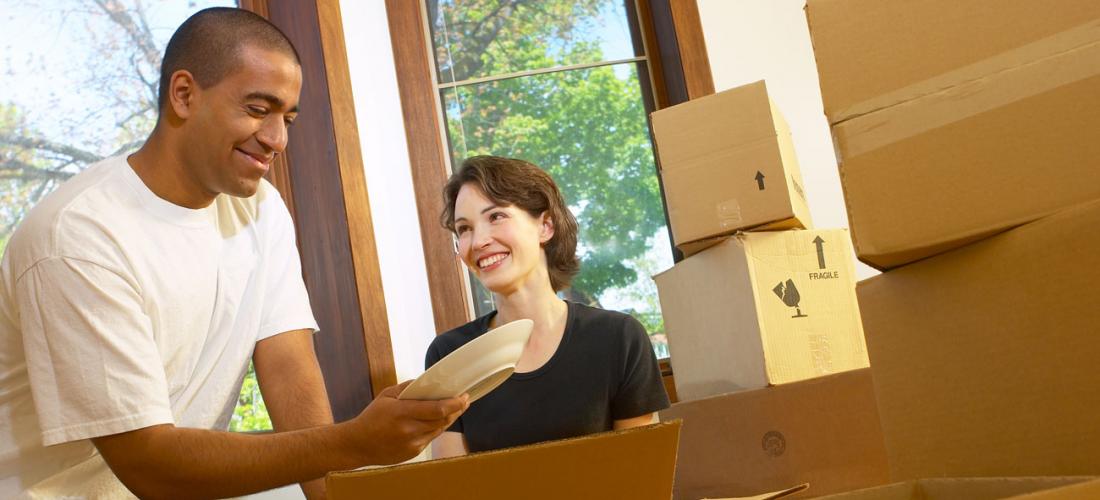 Moving Tips
Moving to the Milwaukee area? One of the first things to check is whether your homeowners or renters insurance will cover your belongings during transit. If not, you will want to buy special coverage.
Are you planning to hire a mover? While moving yourself can save a considerable amount of money, it may not be worth the headaches. 
Family and friends may be willing to help, but remember: If a friend's back goes out while moving the freezer, you can be liable for the medical bills.
Likewise, you'll have little recourse if someone drops a box of china down the front stairs. Unless you are on a tight budget or have little to move, you're probably better off hiring professionals. 
Here are some things to remember:
Don't bring what you really don't want. There is a lot of wisdom in being as merciless as possible with your personal belongings. All too often, boxes of "mementos" are moved from one community to another only to be stacked in the attic - unopened - until the next move. 
Get plenty of small, but sturdy, boxes. Large boxes are difficult to lift and awkward to carry when they are full. Local supermarkets and shopping malls are excellent sources of free boxes. Liquor stores usually have a good supply of compartmentalized boxes, which can be used to transport glass and other breakables.
Save your newspapers. They'll come in handy for packing. However, because newspaper ink can stain some china, dishes should be wrapped in tissue before being wrapped in paper.
Use towels, blankets, pillows and washcloths as cushions. Instead of packing your bedding and towels together, use them to fill up space in boxes filled with breakables.
Pack books with books, dishes with dishes. The risk of damage is greatly reduced when similar items are packed together. If you have an "odds-and-ends" package, place the heavier items at the bottom of the box.
Prevent against accidental spills. Medicine, perfume, nail polish and other liquids can damage items. Use tape to secure their lids, then pack them in sealed plastic bags.
Some things should not be packed. Legal documents, medical records, jewelry, collections and anything that you would store in a safety deposit box should travel with you.
Don't pack anything that could leak or explode. Don't bother bringing aerosol cans, old cans of paint, bleach or solvents. They can cause more problems than they are worth.
Tape boxes shut. If you just fold the top over you might be picking up books in the driveway when the mover stumbles.
Dry out your refrigerator and freezer. They should be unplugged and left open for 24 hours prior to the move to keep mildew from forming.
Empty all fuel and storage tanks. Don't transport your lawnmower with a full tank of gas.
Make the move easier for your movers. By placing boxes close to the door and making sure appliances are disconnected, you can save movers' time and reduce your moving bill.
Houseplants are sensitive. They need light and air to survive. They should not be placed in situations where they could be smashed, knocked over or exposed to extreme temperatures. If they won't fit in your vehicle, give them to friends, nursing homes or hospitals.
Be prepared to pay your movers when you arrive at your new home. Payment is due when the move is complete.
Bring only enough perishable food to last you for the ride. You might not have electricity at your new home.
Conduct a final tour. Make sure nothing has been overlooked and that all gas and water connections are turned off.
Prepare a check-list of things to do. This will keep you from forgetting something important.