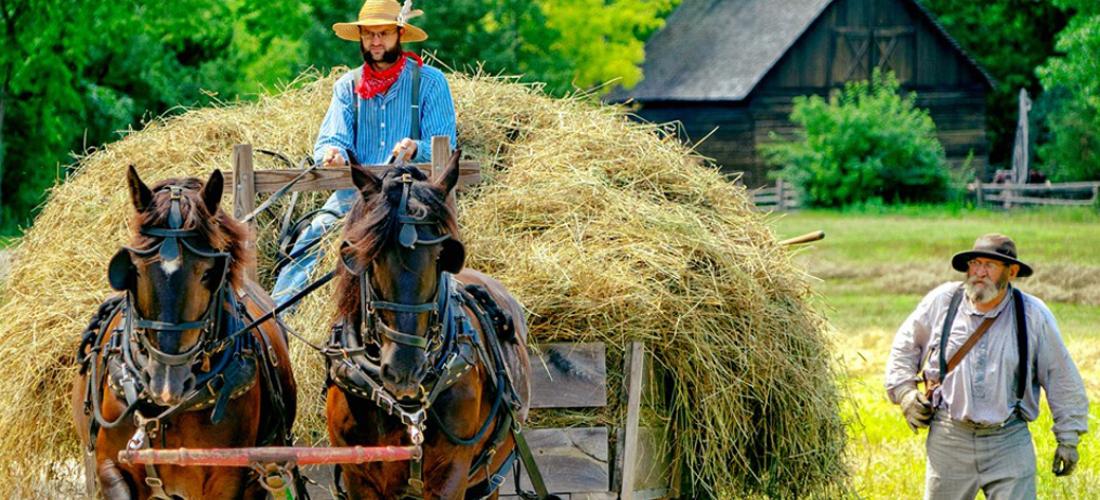 © Old World Wisconsin
History Musuems
America's Black Holocaust Museum
401 W. North Ave., Milwaukee; A history museum and memorial founded by lynching survivor James Herbert Cameron, Jr. Intended to build awareness of the harmful legacies of slavery and Jim Crow in America in order to promote racial repair, reconciliation, and healing. 3,300+ exhibits, both online and onsite, chronicling the Black Holocaust from pre-captivity in Africa circa 1619 to the present. Telephone: (414) 209-3640. abhmuseum.org
Golden Rondelle Theater
1525 Howe St., Racine; Originally designed as the Johnson Wax Pavilion for the 1964-1965 New York World's Fair, the theater now serves as the center for the company's tour program. Includes a 45-minute guided tour of the Frank Lloyd Wright-designed SC Johnson Administration Building. Also the home of the films "Carnauba: A Son's Memoir" and "To Be Alive." Reservations required. Telephone: (262) 260-2154. scjohnson.com.
Milwaukee County Historical Society
910 N. Old World Third St., Milwaukee; Founded in 1935 and focused on the comprehensive history, culture, people and places of Milwaukee County, it features a collection of artifacts and archival materials. The society shares Milwaukee's stories at distinctive locations listed on the National Register of Historic Places. Offers education programs, exhibitions, a research library and special events. History at Home online content and Viewaukee interactive map. Open Wednesday-Saturday 9:30-5. All exhibit admissions include use of the research library. Telephone: (414) 273-8288; milwaukeehistory.net.
Old Falls Village Museum
N96 W15792 County Line Rd., Menomonee Falls; The museum consists of a series of eight buildings that are maintained by the Menomonee Falls Historical Society and furnished with authentic artifacts. Open from May through September, except holidays; group tours by arrangement. Telephone: (262) 250-3901; oldfallsvillage.com.
Old World Wisconsin
W372 S9727 Hwy. 67, Eagle; Open-air, interactive history attraction located in southwest Waukesha County. Explore sensory-rich spaces, hear stories from docents in character, and engage in hands-on activities. Features farm and rural life with more than 65 historic buildings, an 1880's village and octagonal Clausing Barn Café. Showcases food preparation methods, historic breeds of animals and heirloom gardens. Offers virtual and in-person field trips. Open Weekends 10-4 from Apr. 30 through Sept. 25; post-season special events. Telephone: (262) 594-6301; oldworldwisconsin.wisconsinhistory.org.
Racine Heritage Museum
701 Main St., Racine; From astronaut Laurel Clark and architect Frank Lloyd Wright to Case steam tractors and the Underground Railroad, the Heritage Museum of Racine has something for everyone, including a new Racine County Sports Hall of Fame. Free Admission. Open 9-5 Tuesdays - Fridays, 10-3 Saturdays, 12-4 Sundays. Telephone: (262) 636-3926; racineheritagemuseum.org.
Ten Chimneys
S43 W31575 Depot Rd., Genesee Depot; The estate lovingly created by theatre legends Alfred Lunt and Lynn Fontanne is a museum and national resource for theatre, arts and arts education. Online content includes gallery and interactive timeline. Tours offered during the summer Tuesday-Saturday 10-2:30 and Sunday 12-2:30. Reservations highly recommended. Telephone: (262) 968-4110; tenchimneys.org.
Waukesha County Historical Society & Museum
101 W. Main St., Waukesha; Located in an 1893 courthouse, the museum features three floors of exhibits, tours, special events, camps for kids and a research center that tell the story of Waukesha County from the time of the Ice Age. Open 10-4 Wednesdays-Saturdays. Telephone: (262) 521-2859; waukeshacountymuseum.org.
West Allis Historical Society Museum
8405 W. National Ave., West Allis; Housed in an 1887 Richardsonian Romanesque "Cream City" brick building, the museum includes artifacts from an old-time dental clinic, a school room, blacksmith shop, pioneer room, tool room, general store, a cemetery plotted in 1849 and a log-cabin school. Research library contains historical information on West Allis and Town of Greenfield. Open 7-9 pm Tuesdays, 2-4 pm Sundays or by appointment. Telephone: (414) 541-6970; westallishistory.org.