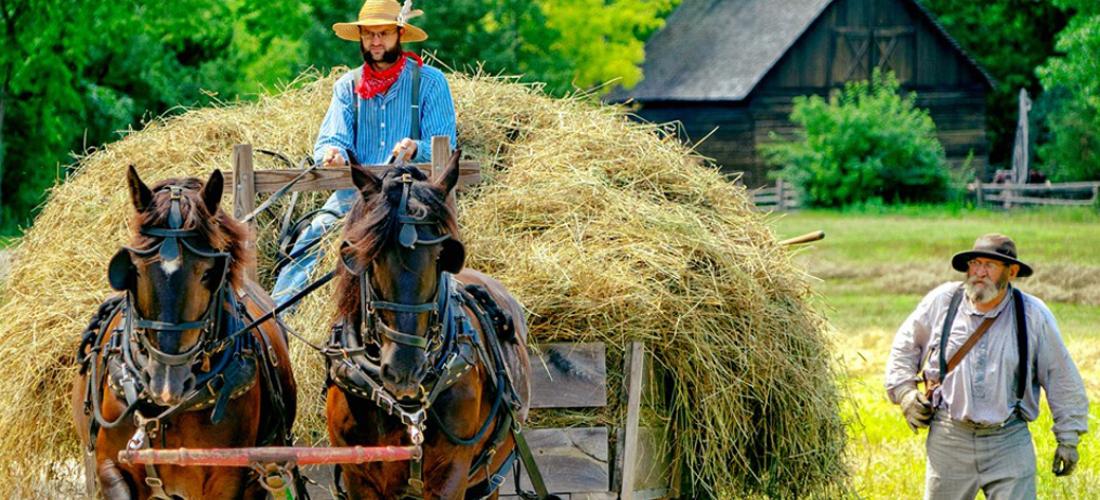 © Old World Wisconsin
History Musuems
America's Black Holocaust Museum
401 W. North Ave., Milwaukee; A history museum and memorial founded by lynching survivor James Herbert Cameron, Jr.  3,300+ exhibits, both online and onsite, chronicling the Black Holocaust from pre-captivity in Africa circa 1619 to the present.  On-site and Online Exhibits. Hours: Tuesday-Saturday, 10-5; Sunday, 12-5. Telephone: (414) 209-3640. abhmuseum.org
East Troy Railroad Museum and Train
East Troy Depot: 2002 Church Street, East Troy; Operates last remaining piece of original interurban network in Wisconsin retired in 1939. Historic rail cars travel a 10-mile scenic trip; board at either the East Troy or The Elegant Farmer/Mukwonago depots.  Historic Depot Museum with artifacts, exhibits and gift shop. Dinner, Sunday brunch, family picnic and charter trains. See website for schedules, special events and ticket info. Telephone: (262) 642-3263; easttroyrr.org
Golden Rondelle Theater
1525 Howe St., Racine; Originally designed as the Johnson Wax Pavilion for the 1964-1965 New York World's Fair, the theater now serves as the center for the company's tour program. Includes a 45-minute guided tour of the Frank Lloyd Wright-designed SC Johnson Administration Building. Also the home of the films "Carnauba: A Son's Memoir" and "To Be Alive." Reservations required. Telephone: (262) 260-2154. scjohnson.com.
Milwaukee County Historical Society
910 N. Dr. Martin Luther King Jr. Drive, Milwaukee; Founded in 1935 and focused on the comprehensive history, culture, people and places of Milwaukee County, it features a collection of artifacts and archival materials. Offers education programs, exhibitions, research library, online shop and special events. History at Home online content and Viewaukee interactive map. Open Monday & Wednesday-Saturday 9:30-5. All exhibit admissions include use of the research library. Telephone: (414) 273-8288; milwaukeehistory.net.
Old Falls Village Museum
N96 W15792 County Line Rd., Menomonee Falls; The museum consists of a series of eight buildings that are maintained by the Menomonee Falls Historical Society and furnished with authentic artifacts. Open from May through September, except holidays; group tours by arrangement. Telephone: (262) 250-3901; oldfallsvillage.com.
Old World Wisconsin
W372 S9727 Hwy. 67, Eagle; Voted 2022 #1 Place to Take Kids in the Milwaukee Area by KidsOutandAbout.Com! Open-air, interactive history attraction located in southwest Waukesha County. Explore sensory-rich spaces, hear stories from docents in character, and engage in hands-on activities. Features farm and rural life with more than 65 historic buildings, an 1880's village and octagonal Clausing Barn Café. Admission fee. Open Fall & Spring weekends 10-4 and Summers Wednesday-Sunday, 10-4. Telephone: (262) 594-6301; oldworldwisconsin.wisconsinhistory.org.
Racine Heritage Museum
701 Main St., Racine; From astronaut Laurel Clark and architect Frank Lloyd Wright to Case steam tractors and the Underground Railroad, the Heritage Museum of Racine has something for everyone, including a new Racine County Sports Hall of Fame. Free Admission. Open 9-5 Tuesdays - Fridays, 10-3 Saturdays, 12-4 Sundays. Telephone: (262) 636-3926; racineheritagemuseum.org.
Ten Chimneys
S43 W31575 Depot Rd., Genesee Depot; The estate lovingly created by theatre legends Alfred Lunt and Lynn Fontanne. Online content includes gallery and interactive timeline. Tours offered May-Dec., Tues.-Sat. at 10 & 2:30 and Sun. at 12 & 2:30. Children under 12 not admitted due to fragility of the estate. Reservations highly recommended. Special events including play readings and music in the Drawing Room. Telephone: (262) 968-4110; tenchimneys.org.
Waukesha County Historical Society & Museum
101 W. Main St., Waukesha; Located in an 1893 courthouse, the museum features three floors of exhibits, tours, special events, camps for kids and a research center that tell the story of Waukesha County from the time of the Ice Age. Open 10-4 Wednesdays-Saturdays. Telephone: (262) 521-2859; waukeshacountymuseum.org.
West Allis Historical Society Museum
8405 W. National Ave., West Allis; Housed in an 1887 Richardsonian Romanesque "Cream City" brick building, the museum includes artifacts from an old-time dental clinic, a school room, blacksmith shop, pioneer room, tool room, general store, a cemetery plotted in 1849 and a log-cabin school. Research library contains historical information on West Allis and Town of Greenfield. Open 7-9 pm Tuesdays, 2-4 pm Sundays or by appointment. Telephone: (414) 541-6970; westallishistory.org.