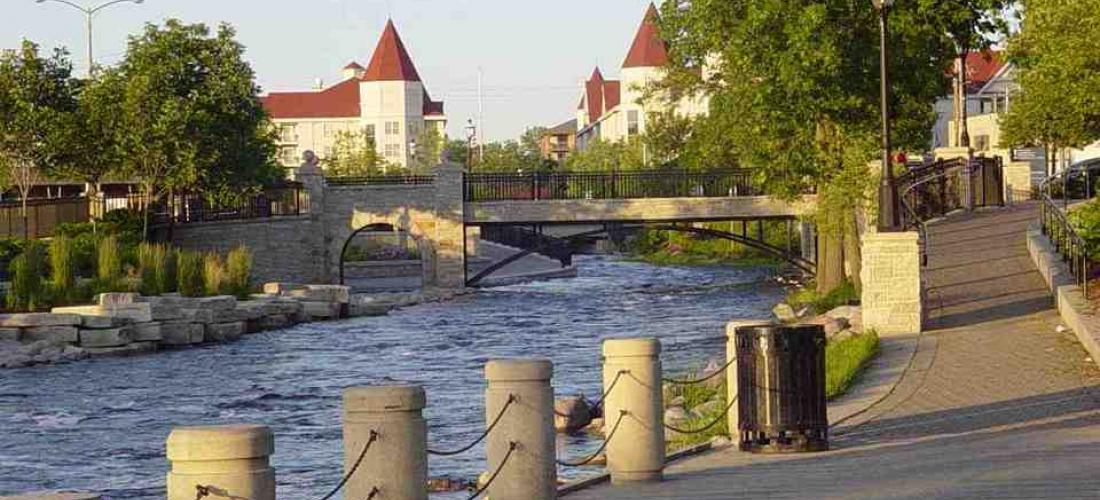 © Visit Milwaukee
Waukesha County
Suburban Living & Lake Country
Waukesha County, located just west of Milwaukee County, offers a perfect blend of urban and rural living. On its eastern edge are the populous - and prosperous - suburbs of Brookfield, Elm Grove, New Berlin, Menomonee Falls and Muskego. This is a rapidly growing area for upscale, residential subdivisions, with some of the wealthiest ZIP codes in the metropolitan area.
Waukesha, the county seat, is a thriving community in its own right and one of the larger cities in the metropolitan area with a population of just under 72,000 people, The community has its own daily newspaper, hospital and commercial districts. It is the home of Carroll University, Waukesha County Technical College and some of the district offices for the state of Wisconsin.
Northwestern Waukesha County is known as "Lake Country" because of the dozens of sparkling lakes that were carved out by glaciers 15,000 years ago. This has long been a summer getaway for well-heeled Chicago and Milwaukee residents, but the area's scenic beauty has made it a popular location for year-round homes as well. This area offers a variety of boating and fishing opportunities, including Pewaukee Lake, the largest inland lake in the county.
Southern Waukesha County is equally appealing for its natural beauty, but it is much quieter and less traveled. The southern unit of the Kettle Moraine State Forest offers excellent hiking and mountain biking trails around lightly forested lakes, hills, prairies and ridges. Other natural attractions include the Vernon Marsh Wildlife Area, a 4,500-acre wetland area along the Fox River near Big Bend and Mukwonago, and Big Muskego Lake, located in the southeastern corner of the county.
Waukesha County offers plenty of recreational opportunities as well. The county has more than 2,000 acres of parks, 72 miles of hiking and biking trails, and several indoor and outdoor pools. Golfers will love it here because of the more than two dozen public and private golf courses in the area. Whether you are seeking suburban living or a rural homestead, Waukesha County is worth a look. 
Waukesha
Although Waukesha is just a half-hour drive from downtown Milwaukee, it often seems like it's a world away. Life is slightly slower here than it is in downtown Milwaukee, although Waukesha does offer many big-city amenities, including the Waukesha Choral Union, the Wisconsin Philharmonic and the Waukesha Civic Theater. 
Waukesha is one of the area's older cities. Its streets were built on the well-worn paths of early indigenous American inhabitants who converged at a place called Five Points in the city's center. In the late 1800s, Waukesha's natural spring water transformed it into a resort town that attracted people from around the country, including Mrs. Abraham Lincoln and President Ulysses S. Grant. Many landmarks of that era remain, including the spring house located at "Five Points." Several recent developments along the Fox River in Waukesha, including a riverwalk, offer easy access to the historic downtown's shops and restaurants, as well as adjacent parks and Carroll University's beautiful campus.
Brookfield
Ideally situated, Brookfield is located on the eastern edge of Waukesha County, it is a blend of beautiful, newer residences and established homesteads dating back to the early part of the 19th century. It is a large community, covering more than 27 square miles and has a population of over 40,000, making it one of the largest and most populous communities in Waukesha County. Brookfield is home dozens of upscale subdivisions, amenity-heavy apartments and condominium projects. It is a regional shopping and business center, highlighted by The Corners of Brookfield, an upscale shopping and entertainment destination. Bishop's Woods and Brookfield Lakes Corporate Center are among the many office parks that have been carefully designed to take advantage of the community's beautiful natural surroundings.
Elm Grove
The village of Elm Grove is a quaint, secluded community that features some of the more beautiful homes in the Milwaukee area. Less than 4.5 miles square, the entire village has been designated a bird sanctuary, which adds to its bucolic atmosphere. The village features a quaint downtown area along Watertown Plank Road and a park that is located in the village center. Surrounded by the cities of Brookfield and Wauwatosa and conveniently located in the center of the metropolitan area, Elm Grove boasts one of the area's highest median home values.
Northern Waukesha County: Menomonee Falls • Lisbon • Sussex • Butler • Lannon
Menomonee Falls, located in the northeastern corner of Waukesha County, was founded in 1843 by a German immigrant who noticed a series of tumbling rapids on the Menomonee River and realized the river's potential for power. This heritage is being celebrated with the development of a new German American Cultural Center. The village is home to eight village parks, a dozen shopping centers and Community Memorial Hospital, which is part of Froedtert Health. The state's oldest training school for skydivers is located at Aero Park Airport. Menomonee Falls boasts more than 2,000 acres of village and county parklands, and the beautiful countryside of Washington County and Waukesha's Lake Country are just minutes away. It is also a hotbed of single-family residential development.
The village of Lannon is probably best known for its quarries. They have provided the building material for the region's iconic Lannon-stone homes.
Other fast-growing communities in northern Waukesha County include  Lisbon and Sussex, both of which feature a mix of residential developments and business parks. Sussex is home to Quad, one of the world's largest commercial printers and a major employer in Wisconsin.
Lake Country: Oconomowoc • Pewaukee • Hartland • Merton • Delafield • Summit • Dousman • Chenequa • Nashotah • Oconomowoc Lake • Lac La Belle
Bright blue lakes and rolling hills punctuate this popular area in northwestern Waukesha County. Boating and fishing are popular here. This is an area filled with natural wonders, most of them created by glaciers thousands of years ago. Lapham Peak, located in the Kettle Moraine State Forest near Delafield, is the highest point in the county with an elevation of 1,233 feet above sea level. It is also one of the hottest development areas in southeastern Wisconsin, with many new upscale homes and subdivisions near Oconomowoc and Delafield.
Delafield has taken on a decidedly historic theme, with several buildings designed in Williamsburg-style motifs. It also is home to St. John's Northwestern Academies, one of the oldest and most respected leadership schools in the nation. 
Lake Country was once known as the "Newport of the West." Between 1870 and 1930, hundreds of Milwaukee, Chicago and St. Louis residents took the train to Oconomowoc to relax at the resorts or in one of the area's many palatial houses. Lake Road in Oconomowoc Lake used to be known as "President's Avenue" because so many of the country's leaders vacationed here, including Taft, Grant, Cleveland, Coolidge, McKinley and Teddy Roosevelt. 
Hartland is located in the center of Waukesha County's Lake Country. Twelve major lakes are located within five miles of the village, which features a scenic downtown surrounded by homes dating back to the 1920s.
Pewaukee is located on the northeastern edge of Pewaukee Lake, the largest lake in the area for sailing, waterskiing, boating and swimming. It also yields more fish per acre than any other lake in the state. Local and national sailing regattas are common in the summer. During the winter, the lake is speckled with ice-fishing shanties.  Given the beauty of its natural surroundings and its central location in the metropolitan region, this area is home to many new subdivisions and business parks.
Chenequa is a small, exclusive community that features expansive homes wrapped around the shores of prestigious Pine Lake.
New Berlin/Muskego
Although originally settled in the 1800s, most of this area was developed in the last 50 years as Milwaukee moved westward. New Berlin boasts many beautiful homes with a variety of subdivisions, as well as condominium and apartment complexes in this wide-ranging and still-growing community. Water lovers flock to Muskego, one of the county's fastest-growing communities, which offers three lakes for summer and winter enjoyment – Big Muskego Lake, Little Muskego Lake and Lake Denoon. A short drive away is the small community of Wind Lake, which is located where Hwy. Y (Racine Ave.) and U.S. 36 (Loomis Rd.) converge. Its proximity to three lakes - Wind, Long and Waubasee - have made it popular for both summer and year-round homes. 
Southwestern Waukesha County: Eagle • Mukwonago • Wales • Vernon • North Prairie • Genesee
Southwestern Waukesha County is a rural wonderland where people enjoy nature. This region is becoming increasingly popular because of its beautiful scenery. It is home to the southern unit of the Kettle Moraine State Forest, which features 75 miles of trails through kames, kettles, eskers and moraines that were formed by the retreating glaciers, but has easy access to Milwaukee via I-43. 
Old World Wisconsin is located in Eagle, a small, quaint community in the southwestern corner of the county. Inspired by the outdoor museums of Europe, this "living" museum contains the actual farmhouses, barns and shops used by some of Wisconsin's pioneers. There are several upscale residential developments in the area, many of which have set aside significant acreage to protect wetlands and wildlife.
Mukwonago is the largest community in southwestern Waukesha County and is still growing rapidly. It is located on Phantom Lake and the Fox River, just southwest of the Vernon Marsh State Wildlife Area, which provides excellent deer, goose and pheasant hunting. It is also a short drive from Alpine Valley, the largest ski hill in southeastern Wisconsin and a popular outdoor music venue in the summer. 
Wales, located on the Ice Age Drumlin Trail, provides plenty of country living options.