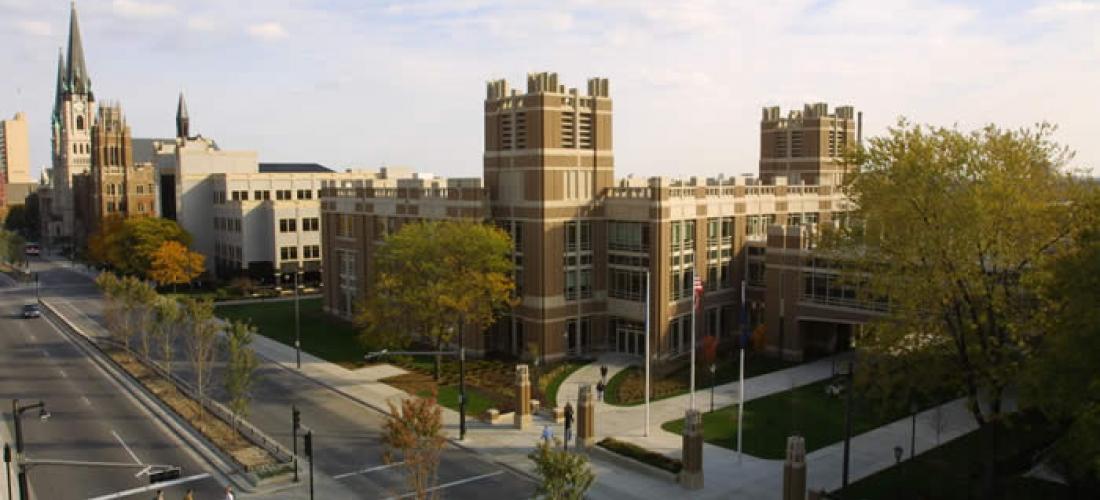 © Visit Milwaukee
Colleges & Universities
Wisconsin values education and nowhere is this clearer than in its system of colleges and universities. More than 68,000 students are enrolled each year in the more than two dozen public and private four-year schools serving the region. These include nationally recognized universities, colleges, technical schools and specialty schools.
Higher Education
Southeastern Wisconsin also offers a wealth of higher education opportunities. The University of Wisconsin-Milwaukee has more than 27,000 students in more than 190 different undergraduate and graduate degree programs. Marquette University offers over 11,550 students a wide array of academic choices and more than 80 majors through its nationally recognized colleges and schools. Nearly 2,800 students attend the Milwaukee School of Engineering, a private college with very strong ties to the business community.
There are more than a dozen other four-year universities or colleges in the region. These include Alverno College and Mount Mary University in Milwaukee, both of which serve women; Concordia University Wisconsin in Mequon, and Cardinal Stritch University and Wisconsin Lutheran College in Milwaukee. In addition, there are several specialty schools, including the Medical College of Wisconsin, which provides physician and pharmacy education, and the Milwaukee Institute of Art & Design. 
The state's vocational education program was the first of its kind in the nation when it was established in 1908. Working closely with business and industry, it provides two-year degrees that are closely matched to real-world needs. In southeastern Wisconsin, vocational schools include the Milwaukee Area Technical College in Milwaukee and Ozaukee counties, Waukesha County Technical College in Waukesha County, the Moraine Park Technical College in Washington County and Gateway Technical College in Racine County. These schools have a combined enrollment of nearly 85,000 students in associate degree and certificate programs.
University of Wisconsin-Milwaukee (UWM)
The University of Wisconsin–Milwaukee (UWM) is the second-largest campus in the University of Wisconsin System, with more than 24,000 undergraduate and graduate students representing 47 states and more than 80 countries. UWM's 15 schools and colleges offer more than 200 degree programs, including 66 master's degree and 38 doctoral degree programs.
UWM is known for its School of Architecture & Urban Planning, School of Freshwater Sciences, Lubar School of Business, College of Engineering & Applied Science and College of Health Sciences. In 2011, it was included in the Shanghai Academic Ranking of World Universities, signifying it as one of the world's best international research universities. In 2016, UWM was designated a top-tier doctoral research university, joining Yale, Duke and Johns Hopkins universities.
Princeton Review named UWM a "2021 Best Midwestern University" as well. Located a few minutes north of downtown Milwaukee, UWM is a NCAA Division I school, with 15 athletic teams. uwm.edu
Two other four-year University of Wisconsin schools are located in the region. More than 12,500 students attend the University of Wisconsin-Whitewater in Walworth County, noted for its AACSB-accredited College of Business and Economics. Another 4,700 students attend University of Wisconsin-Parkside, located between Racine and Kenosha.

Marquette University
Marquette University Marquette University is the largest private school in the region. A Jesuit, Catholic university, Marquette serves just over 11,550 students from nearly every state and 64 countries. Marquette offers 83 majors and 81 minors; pre-professional programs in dentistry, law and health sciences, as well as undergraduate programs for working adults and study abroad opportunities. For postgraduate students, Marquette offers 68 doctoral and master's degree programs, 22 graduate certificate programs, and a School of Dentistry and Law School. Marquette ranks within the top 100 schools in the 2022 Edition of America's Best Colleges, which is published by U.S. News and World Report, and is also ranked 54th in Best Value Schools. Marquette was ranked the 6th best college nationally and the best college in Wisconsin for job placement, according to rankings done by Zippia.com. Founded in 1881, Marquette University is located just west of downtown Milwaukee. marquette.edu
Southeastern Wisconsin is home to more than two dozen colleges, universities and specialty schools that offer a full range of educational opportunities - from classroom settings offering low faculty-to-student ratios, to world-class research centers like the University of Wisconsin - Milwaukee and Marquette University.
Private Colleges
Following are the private, non-specialty four-year schools serving the area:
Alverno College
3400 S. 43rd St., Milwaukee; Enrollment: 1,100; weekday and evening/online undergraduate class options for women; accelerated bachelor's program for men and women; co-ed master's programs in business, education, nursing, music therapy, school psychology and community psychology. Telephone: (414) 382-6000;  www.alverno.edu
Cardinal Stritch University
6801 N. Yates Rd., Milwaukee; Enrollment: 4,600; undergraduate degrees ranging from education to business and the fine arts; graduate programs in nursing, clinical psychology, religious studies; sports management, leadership, health sciences, education and business. Telephone: (414) 410-4000; www.stritch.edu
Carroll University
100 N. East Ave., Waukesha; Enrollment: 3,496 (undergrad), 525 (graduate); Curriculum: liberal arts and pre-professional in more than 95 areas of study; business school offers six graduate certificate programs. Telephone: (262) 524-7373; www.carrollu.edu
Concordia University Wisconsin
12800 N. Lake Shore Dr., Mequon; Enrollment: 6,802; Curriculum: liberal arts, business, business, nursing, health professions, education and pharmacy. Telephone: (262) 243-5700; www.cuw.edu
Marquette University
1250 W. Wisconsin Ave., Milwaukee; Enrollment: 11,550; Curriculum (colleges/schools): arts and sciences, business administration, communication, dentistry, education, engineering, health sciences, law, nursing, and professional studies. Telephone: (414) 288-7250; www.marquette.edu
Mount Mary University
2900 N. Menomonee River Pkwy., Milwaukee; Enrollment: 1,200; Curriculum: liberal arts. Telephone: (414) 258-4810; www.mtmary.edu
Wisconsin Lutheran College
8800 W. Bluemound Rd., Milwaukee; Enrollment: 1,200; Curriculum: liberal arts, business, teacher education, and nursing. Telephone: (414) 433-8800; www.wlc.edu 
Specialty Schools
Medical College of Wisconsin
8701 W. Watertown Plank Rd., Milwaukee; Enrollment: More than 1,400 students enrolled in medical school and graduate school programs in Milwaukee, Green Bay and Central Wisconsin; residency and fellowship training for graduate physicians; School of Pharmacy; national research center with more than 3,100 research studies including clinical trials. Curriculum: medical, biomedical science, public health.Telephone: (414) 955-8296; www.mcw.edu
Milwaukee Institute of Art & Design
273 E. Erie St., Milwaukee; Enrollment: 930; Curriculum: bachelor of fine arts degree in communication design, illustration, interior architecture and design, product design and new studio practice: fine arts. Telephone: (414) 847-3200; www.miad.edu
Milwaukee School of Engineering
1025 N. Broadway, Milwaukee; Enrollment: 2,510 (undergraduate), 163 (graduate); Curriculum: engineering, actuarial science, business, computer science and nursing. Telephone: (414) 277-6763 or (800) 332-6763  www.msoe.edu
Technical Colleges
The state's occupational education system continues to be a national leader in providing students with the skills they need to succeed in the workplace. They serve more than 340,000 students at 16 colleges throughout Wisconsin. More than 91 percent of students who complete the state's technical college programs are employed within six months of their graduation.
Gateway Technical College
Offers more than 70 diploma, certificate and associate degree programs. Campuses in Racine, Kenosha, Elkhorn, Burlington, Pleasant Prairie and Sturtevant. Telephone: (800) 247-7122; www.gtc.edu
Milwaukee Area Technical College
Offers 170+ associate degree, technical diploma and certificate programs students can complete in as little as one to two years; a more affordable path to a four-year degree, MATC partners with more than 40 four-year colleges and universities. Campuses in Downtown Milwaukee, Mequon, Oak Creek and West Allis. Telephone: (414) 297-MATC; Website: www.matc.edu
Moraine Park Technical College
Offers more than 60 associate degrees and diploma programs in the West Bend area. Telephone: (262) 334-3413; www.morainepark.edu
Waukesha County Technical College
Offers 170+ associate degree, technical diploma, apprenticeship and certificate programs. WCTC has numerous partnerships and transfer agreements in place with several area four-year colleges and universities, and the College also features customized training for employers. Campuses located in Pewaukee and Waukesha. Telephone: (262) 691-5566; www.wctc.edu