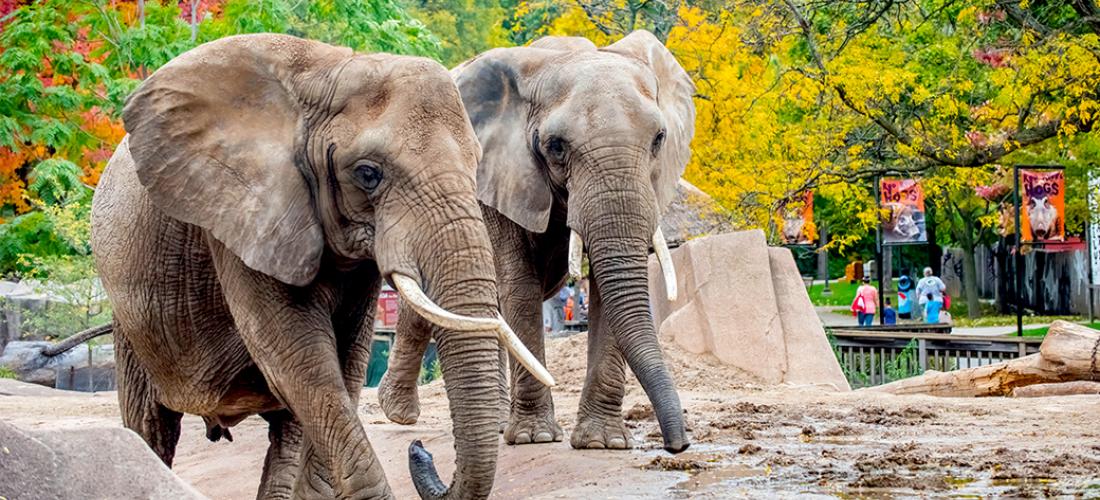 © Milwaukee County Zoo
Nature and Ecology
Boerner Botanical Gardens
9400 Boerner Dr., Hales Corners; A collection of formal garden spaces featuring a variety of plant collections. Formal gardens include the perennial, peony, rock, rose, shrub, annual, daylily, herb and trial gardens. Guided garden tours, classes and special events year-round. Open daily 8-7, May-October. Located in Whitnall Park. Telephone: (414) 525-5653; boernerbotanicalgardens.org.
Milwaukee County Zoo
10001 W. Bluemound Rd., Milwaukee; Visit more than 2,200 mammals, birds, fish, amphibians and reptiles representative of 330 different species in specialized habitats spanning 190 wooded acres. Features a zoo train, sea lion show, tram tour, animal rides, dairy farm, restaurants and gift shops. Special events and education programs. Watch animal behavior via webcams. Yearly Zoo Pass available for free regular admission to the Milwaukee County Zoo, free or discounted admission for over 150 nationwide zoos and aquariums, access to members-only events, and discounts on enriching classes and programs for all ages. Open 365 days of the year; see website for seasonal hours. Telephone: (414) 256-5412; Website: milwaukeezoo.org.
Mitchell Park Horticultural Conservatory - The Domes
524 S. Layton Blvd., Milwaukee; Three architecturally unique glass domes house a tropical rainforest with a 30-foot waterfall and orchid collection, a desert oasis and a floral "Show Dome" featuring five floral seasonal exhibits. Open 9-5 Wednesday and Friday, 9-8 Thursday and 9-4 Saturday-Sunday. Reservations are recommended; Telephone: (414) 257-5600; mitchellparkdomes.com
Racine Zoo
2131 N. Main St., Racine; Nestled on the sandy shores of Lake Michigan, the zoo is home to the world's most remarkable and endangered wildlife. An easy walk for kids and seniors. Open year-round; free parking. Summer hours (May-September): 9-6; Fall/spring hours: 9-4:40; Winter hours: 9-4. Free for children 2 and under. Telephone: (262) 636-9189; racinezoo.org
Schlitz Audubon Nature Center
1111 E. Brown Deer Rd., Bayside; With a mission to conserve the diverse habitats along the Lake Michigan shore, the center provides access, experiences and environmental education. Onsite and online programs and lectures, interactive events. Acclaimed raptor program, nature preschool, summer camps and six miles of hiking trails. Milwaukee birding hotspot! Free for members; non-member fees: $8 adults, $5 for ages 3-17 and veterans/ active-duty service members. Telephone: (414) 352-2880; schlitzaudubon.org
Urban Ecology Center
Riverside Park: 1500 E. Park Pl., Milwaukee; Located on the Oak Leaf Recreational Trail along the Milwaukee River, the center connects city-dwellers with nature and each other. A Neighborhood Environmental Education Program (NEEP) engaged in urban habitat restoration and education, it offers programming for families, adults, children and teens plus after-school programs. Interest groups, eco-travel opportunities. Conducts community science and research through its Institute. Winter equipment lending and pop-up excursions. Two branches also located in Washington Park (1859 N. 40th St.) and the Menomonee Valley (3700 W. Pierce St.). Telephone: (414) 964-8505; Website: urbanecologycenter.org
Wehr Nature Center
9701 W. College Ave., Franklin; Five miles of nature trails loop through 220 acres of woodlands, wetlands, prairie, oak savanna and around 20-acre Mallard Lake. Nature programs for all ages and special seasonal events for families. Nature center open daily 8:30-4:30 except New Year's Day, Easter Sunday, Independence Day and some days near Thanksgiving and Christmas. Telephone: (414) 425-8550;  friendsofwehr.org